Unlock Exclusive Rewards: A Complete Guide to Redeeming Codes in Cabin Crew Simulator on Roblox
Introduction
Cabin Crew Simulator is an exciting Roblox game that allows players to experience air travel's thrilling and dynamic world. From managing passengers and assisting pilots to keeping the aircraft in tip-top shape, the game presents various engaging challenges. By redeeming codes, players can unlock exclusive rewards and in-game bonuses that enhance their experience and help them rise. In this article, we will provide a step-by-step guide on redeeming codes in Cabin Crew Simulator, sharing all working codes for June 2023, and offering tips for optimizing your in-game experience.
Click here to play Cabin Crew Simulator.
How to Redeem Codes in Cabin Crew Simulator
Redeeming codes in Cabin Crew Simulator is a simple process. Follow these steps to unlock your exclusive rewards:
Launch the game: Open Cabin Crew Simulator on Roblox and start a new game session.
Open the code redemption menu: On the left side of the screen, locate and click on the Gift icon to open the code redemption menu.
Enter the code: Input one of the working codes listed in this guide into the text box provided.
Redeem the code: Click the 'Redeem' button to submit the code and receive your reward. The in-game currency or bonus will be automatically added to your account.
Repeat the process for more rewards: Redeem multiple codes by repeating the steps above. Keep in mind that each code can only be used once per account.
Working Codes in Cabin Crew Simulator for June 2023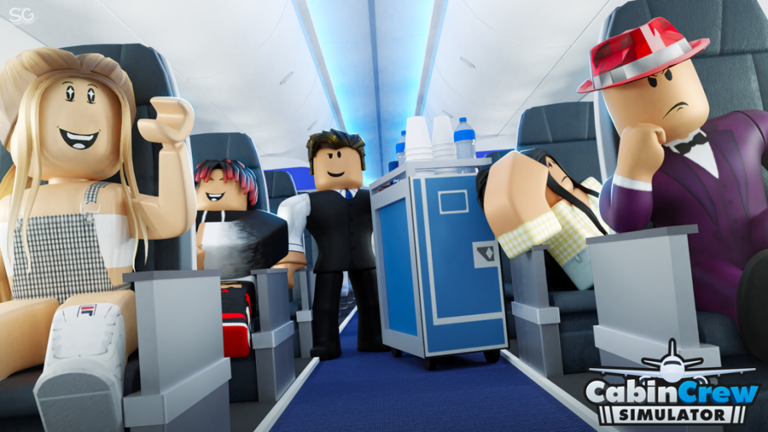 The following codes are all active in Cabin Crew Simulator as of June 2023. Be sure to redeem these codes to receive the associated rewards, which are listed next to each code:
pilot: Redeem this code to receive $1,000 Skybux.
landing: Redeem this code to receive $1,200 Skybux.
snow: Redeem this code to receive $1,600 Skybux.
clouds: Redeem this code to receive $100 Skybux.
takeoff: Redeem this code to receive $150 Skybux.
flying: Redeem this code to receive $200 Skybux.
wheelsup: Redeem this code to receive $2,000 Skybux.
mission: Redeem this code to receive $1,500 Skybux.
evacuate: Redeem this code to receive $1,200 Skybux.
airliner: Redeem this code to receive $1,400 Skybux.
cruising: Redeem this code to receive $1,000 Skybux.
triple7: Redeem this code to receive $1,500 Skybux.
Tips for Optimizing Your In-Game Experience

To get the most out of Cabin Crew Simulator and boost your success, consider these helpful gameplay tips:
Upgrade your aircraft: Invest your earned Skybux in upgrading your plane. Improvements such as increased seating capacity, better amenities, and enhanced speed will attract more passengers and increase your profits.
Focus on customer service: Prioritize excellent customer service to boost your reputation and attract more passengers. Attend to passengers' needs promptly, and make sure your flight crew is well-trained and attentive.
Maintain aircraft cleanliness: Ensure your aircraft stays clean and tidy. This improves passengers' experience and contributes to a better reputation for your airline.
Customize aircraft interiors: Customize your aircraft's interior to reflect your airline's unique personality and aesthetics. This will increase passengers' satisfaction and create a memorable experience.
Become well-rounded: Learn various in-game skills, such as assisting pilots, managing emergencies, and providing in-flight entertainment. This versatility will enhance your overall in-game performance and make you a valuable crew member.
Regularly redeem new codes: Keep an eye out for announcements of new regulations and always redeem them as soon as possible. These codes offer valuable in-game rewards, such as Skybux and unique items, which will help you quickly progress and enhance your in-game experience.
Collaborate with other players: Working with other players in Cabin Crew Simulator can improve your efficiency, make the gameplay more enjoyable, and enhance your overall performance. Forge alliances, communicate effectively, and share responsibilities to get the most out of your cooperative efforts.
Participate in events and challenges: Cabin Crew Simulator often hosts special events and challenges that offer unique rewards. Participate in these events to experience new aspects of the game, boost your skills, and earn exclusive bonuses.
Plan your route and schedule: Efficient route planning and scheduling will increase profits and customer satisfaction. Analyze the most profitable destinations, establish regular flight schedules, and minimize layovers and downtime to achieve the best results.
Manage your finances: Keep a close eye on your airline's income and expenses. Balance investments in aircraft upgrades with your available budget, and strategically allocate your spending. Ensure that your airline remains profitable and can continue to grow and thrive within the competitive landscape of Cabin Crew Simulator.