Anticipation is high for the sequel to the hit game Marvel's Spider-Man, aptly titled Marvel's Spider-Man 2. Fans eagerly await the opportunity to step into the roles of Peter Parker and Miles Morales, swinging through the streets of New York City to combat a new and imposing threat. Amid the excitement surrounding the game, the ESRB Rating has revealed exciting new insights, including the introduction of in-game purchases and content features. This article discusses the game's rating details and what players can expect from this thrilling sequel.
In-Game Purchases & ESRB Rating Details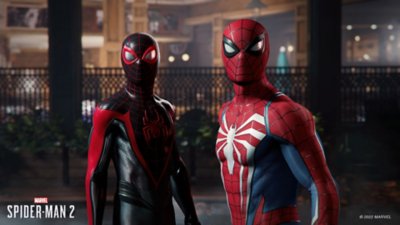 The sequel has received a Teen rating from the ESRB, confirming that Marvel's Spider-Man 2 will feature in-game purchases. While specifics are yet to be disclosed, this addition suggests players will have access to a range of purchasable content that may include cosmetic items, expansions or additional gameplay content. I personally believe it will be expansions since the ESRB ratings of previous Spider-Man Games also included "In-Game Purchases" and those had additional content in form of expansions or DLCs.
Content-wise, the game features themes of blood, violence, drug reference, and mild language. Players can expect a similar balance of thrilling action, memorable cutscenes, and dramatic storytelling as they experienced in the original Marvel's Spider-Man.
Rating Summary Breakdown
Marvel's Spider-Man 2 promises an action-packed gaming experience, allowing players to engage in high-intensity battles, adrenaline-fueled web-swinging, and even use special symbiote-based and electricity-based attacks. Emphasizing the game's urban setting and crime-fighting theme, the ESRB Rating reveals that players will encounter criminal activities involving drug trading and weapons smuggling.
Despite the Teen rating, the game addresses mature themes such as violence and blood. Some cutscenes depict blood and violent acts, like choking and the discovery of a dead body. The presence of expletives, albeit mild, contributes to the game's gritty, realistic atmosphere as characters navigate the dark underbelly of New York City.
Conclusion
The ESRB Rating gives fans an enticing preview of what to expect from Marvel's Spider-Man 2, revealing new features like in-game purchases and emphasizing an impressive and engaging narrative. As players assume the roles of Peter Parker and Miles Morales, they'll dive into another chapter of thrilling superhero action, replete with well-crafted cutscenes, captivating storytelling, and immersive gameplay. Keep an eye out for Marvel's Spider-Man 2, slated to land on consoles soon, and brace yourself for a wild web-slinging adventure that delves deeper into the lives of our favorite wall-crawling, crime-fighting heroes.
Marvel's Spider-Man 2 is set to be released in October but the pre-orders are not up yet but the ESRB rating indicates that they will be up soon.
For more Gaming related news click here.