The exhilarating world of racing games has always been a popular genre in the realm of video games. The heart-thumping speed, picturesque tracks, and the constant battle to cross the finish line first have made racing games a favorite among gaming enthusiasts. In 2023, the scene is no different. With mobile gaming gaining more traction than ever, racing games have taken a significant leap forward, providing console-like experiences right at your fingertips, whether you use an Android or iOS device. We have identified some of the best racing games for Android and iOS in 2023, from adrenaline-pumping arcade races to realistic driving simulations.
This article will explore popular titles like "Asphalt 9: Legends", "Rush Rally 3", "Real Racing 3", "Need for Speed™", and a surprise entry, "Mario Kart", which has been delighting gamers across android platforms. Let's buckle up and embark on this thrilling journey through the best racing games of 2023
Asphalt 9: Legends
Every list of top racing games would be incomplete without the renowned franchise "Asphalt". The legend continues with its ninth installation, "Asphalt 9: Legends". This game takes racing to a new level on mobile with its exaggerated physics, stunning visuals, and an automobile lineup that would make any car enthusiast drool. One of the significant strengths of Asphalt 9: Legends is its content depth. With an offline career mode, online multiplayer, and weekly or monthly events, players always have something new to experience.
Asphalt 9: Legends offers more than 50 prestigious cars, each of which is a vehicle enthusiast's dream. The makers have striven to replicate each model meticulously, with each car boasting advanced aesthetics and animations. The graphics offer realistic environments that move at lightning speeds to provide an exciting racer experience.
The controls in Asphalt 9: Legends simplify the racing genre, allowing players to focus on maneuvering and navigation. This game also introduces the brand new 'Touch Drive' control scheme that streamlines steering to help beginners get up to speed.
However, this game does not pull any punches when it comes to content. The single-player mode comprises of over 800 races spread across 8 chapters. In addition, the multiplayer mode lets you race towards global dominance as you pit your racing skills against players worldwide.
Click on your preferred platform below to download Asphalt 9:
Android
iOS
Rush Rally 3
If you're looking for a console-like racing simulation on your phone, look no further than "Rush Rally 3". This game sets itself apart with its versatile offerings of solo and multiplayer modes for ensuring a thorough and extensive racing experience for players of all preferences.
One of the unique selling propositions of Rush Rally 3 is its incredible attention to detail. The graphics are highly realistic, with dynamic lighting and shade effects that create an immersive and engaging environment for players. The tracks boast of a variety of terrain types, weather conditions, and times of day, adding extra layers of challenge and excitement to the gameplay.
Another significant aspect that Rush Rally 3 prides itself on is the accurate portrayal of the racing dynamics. The game incorporates the complexities of real-world racing such as grip, weight, and suspension to offer an authentic experience. Players can experience the thrill of rally racing across various locations like the snowy landscapes of Sweden to the treacherous bends of Monte Carlo.
Rush Rally 3 delivers a robust multiplayer mode that allows players to race and compete online against friends and other racing enthusiasts worldwide. The game's multiplayer mode supports cross-platform play, allowing friends to race against each other irrespective of the device they use.
One of its core features, the comprehensive career mode, allows players to upgrade cars, hire an entire crew, and even compete in full championship seasons. With over 72 stages across different landscapes, Rush Rally 3 ensures a captivating racing experience that goes beyond the conventional.
To download this click on one of the Platforms below:
Real Racing 3
"Real Racing 3" stands as a testament to the evolution of mobile racing games, offering a genuine simulation experience that nudges gamers out of the realm of fantasy and into stark realism. Real Racing 3 is a jewel for those who crave authentic driving sensations, meticulous attention to detail, and a robust roster of high-end, exotic vehicles.
One of the game's most prominent features is its expansive 40-car grid. This mechanic strives to replicate the chaos and confrontation of real-life racing. With 43-car replicas from leading manufacturers such as Ford, Ferrari, Lamborghini, and Aston Martin, players can select and drive their dream cars. All of the cars in-game bear the closest resemblance to actual models, including minute details concerning the car's interior and exterior.
But the authenticity of Real Racing 3 does not stop with the vehicles. The game includes a variety of event types, such as cup races, eliminations, and endurance challenges, and over 100 detailed tracks from global locales such as Le Mans, Hockenheimring, Laguna Seca, and Silverstone.
Real Racing 3 is not an arcade racer. The mechanics are real, the physics are tangible, and mastering the controls requires a real skill. This formula makes the game engaging, challenging, and ultimately, hugely satisfying.
The unmistakable commitment towards realism is one of the defining aspects of Real Racing 3. This conviction translates to an experience that requires players to adapt to different conditions like variations in tire grip based on the terrain, simulation of suspension and weight lifting while taking tight corners, and many more. Moreover, the game also applies a damage system, i.e., colliding or crashing into other cars or the environment has consequences and affects the performance of your car, further enhancing the game's realism.
The customization options in Real Racing 3 are also worthy of note. Players have the flexibility to upgrade their cars with a broad selection of parts and modifications, enhancing their vehicle's speed, acceleration, control, and more. Additionally, you can personalize your car with a myriad of paint schemes, vinyl, and rims.
The game also offers a unique "Photo Mode," prompting players to take stunning pictures of their high-octane races and awe-inspiring vehicles against the backdrop of renowned global circuits. It ticks all the right boxes for a racing enthusiast who takes pride in their digital car collection.
Real Racing 3 continuously updates its content, ensuring the game stays fresh for its players. The game frequently introduces new vehicles, tracks, and game modes to maintain the audience's excitement and sense of discovery.
In essence, Real Racing 3 brings to your mobile device the complexity and thrill of an actual car racing experience with its attention to detail, rich content, and relentless pursuit of authenticity. For those who are genuine motorheads, there is no better gateway towards realizing a car racing dream than this game.
Lastly, the game also emphasizes social interactions with features that allow you to compete with friends or other players worldwide in its dynamic multiplayer system. It even showcases a unique Time Shifted Multiplayer (TSM) technology, which lets you race against anyone, anytime, even if they're offline.
Select your preferred platform from the options below to initiate the download process.
Need for Speed™ No Limits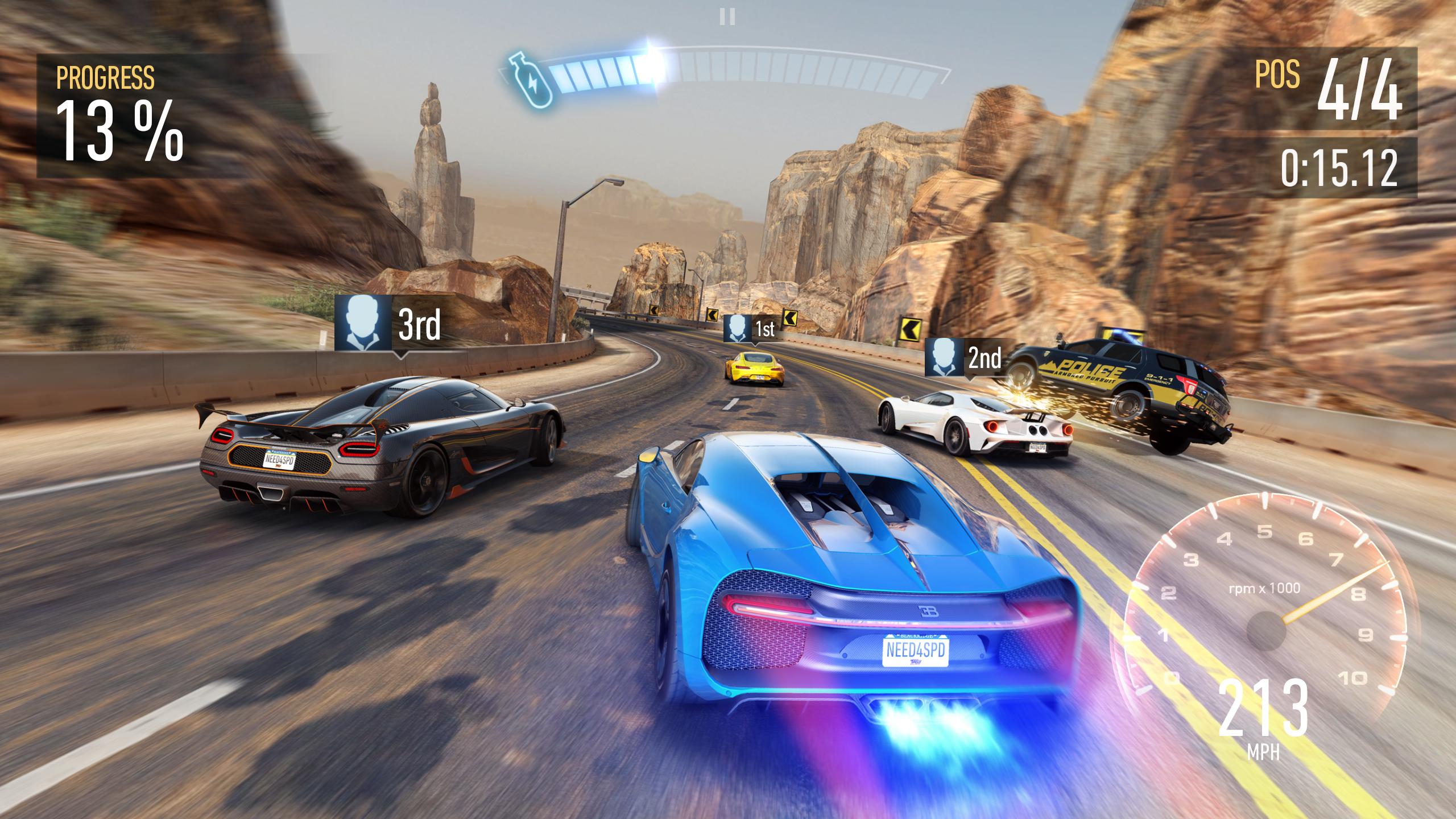 "Need for Speed™ No Limits" reaffirms why the franchise has been a hallmark in the racing genre, shifting the gear to maximum with sleek graphics, quick race times, and fast-paced action. Positioned as a game for those who are passionate about street racing and customizing their cars, No Limits lives up to its name.
Need for Speed™ No Limits amplifies the thrill of illegal street racing, with expansive, immersive environments that change dynamically – the bustling city streets, the dark, silent tunnels, and the ominous industrial zones. Each race is unique, packed with ramps, tight corners, and high-speed straights that demand skilled driving and complete control of your vehicle.
The game boasts an impressive collection of over 100 cars from iconic car companies like Subaru, BMW, and McLaren, among others. Each car is meticulously designed to mirror the real-life counterpart, right down to the smallest detail. But No Limits is not just about the race; it's also about the ride. The game elevates itself from other racing games with its deep and extensive customization options. Players can acquire real-world parts from top aftermarket brands to build and customize their dream ride, with thousands of potential combinations.
Furthermore, No Limits also enriches the player experience with numerous game modes. Participate in challenging races, exciting time-limited events, or take on other players in multiplayer battles. The story-driven campaign provides an engaging narrative backdrop where players rise from a rookie to a revered street racing icon.
In Need for Speed™ No Limits, every second counts, as players are constantly challenged to push beyond their limits, tune their ride, strategize their race, and outsmart their rivals. It is the perfect game for those seeking the adrenaline rush of street racing without the real-world risks.
Mario Kart
Who says racing games have to be all about serious competition and reality-based simulations? "Mario Kart" has proven time and again that a racing game can be vibrant, whimsical, and still deliver heaps of excitement. Bringing together all your favorite characters from the Mario franchise, it spices up the racing genre with a joyous blend of chaos, strategy, and a little bit of luck.
While Mario Kart retains the basic racing game tenets, where you strive to reach the finish line first, it adds in layers of fun through its unique courses, power-ups, and show-stealing moments. A complete departure from the conventional racetracks, Mario Kart presents players with fanciful, stunningly designed courses. These tracks, oozing with charm and brimming with obstacles, carry a different breed of challenges – from dodging banana peels to outwitting carnivorous plants.
An important feature that sets Mario Kart apart from other games is its cleverly designed power-up system. Players can get hold of a variety of power-ups such as the famous red-shell, bananas, and even bullet-bill that significantly influence the race's outcome. Using these power-ups strategically against your opponents adds a whole new dimension to the gameplay.
Mario Kart also excels in its multiplayer mode where players can race against friends or other players worldwide. It complements the inherently competitive racing spirit and breeds thrilling moments as racers joust for the first position while avoiding every manner of goofy catastrophe.
Yet, its fun does not sacrifice depth. The game offers a progression system where you can unlock new characters, karts, and gliders to customize your racing experience and augment your racing prowess.
Whether you're a seasoned gamer or just someone looking to have some fun, Mario Kart proves a racing game can be a delightful, wacky spectacle and a fierce competition at the same time.
Select your preferred platform from the options below to initiate the download process.
GRID™ Autosport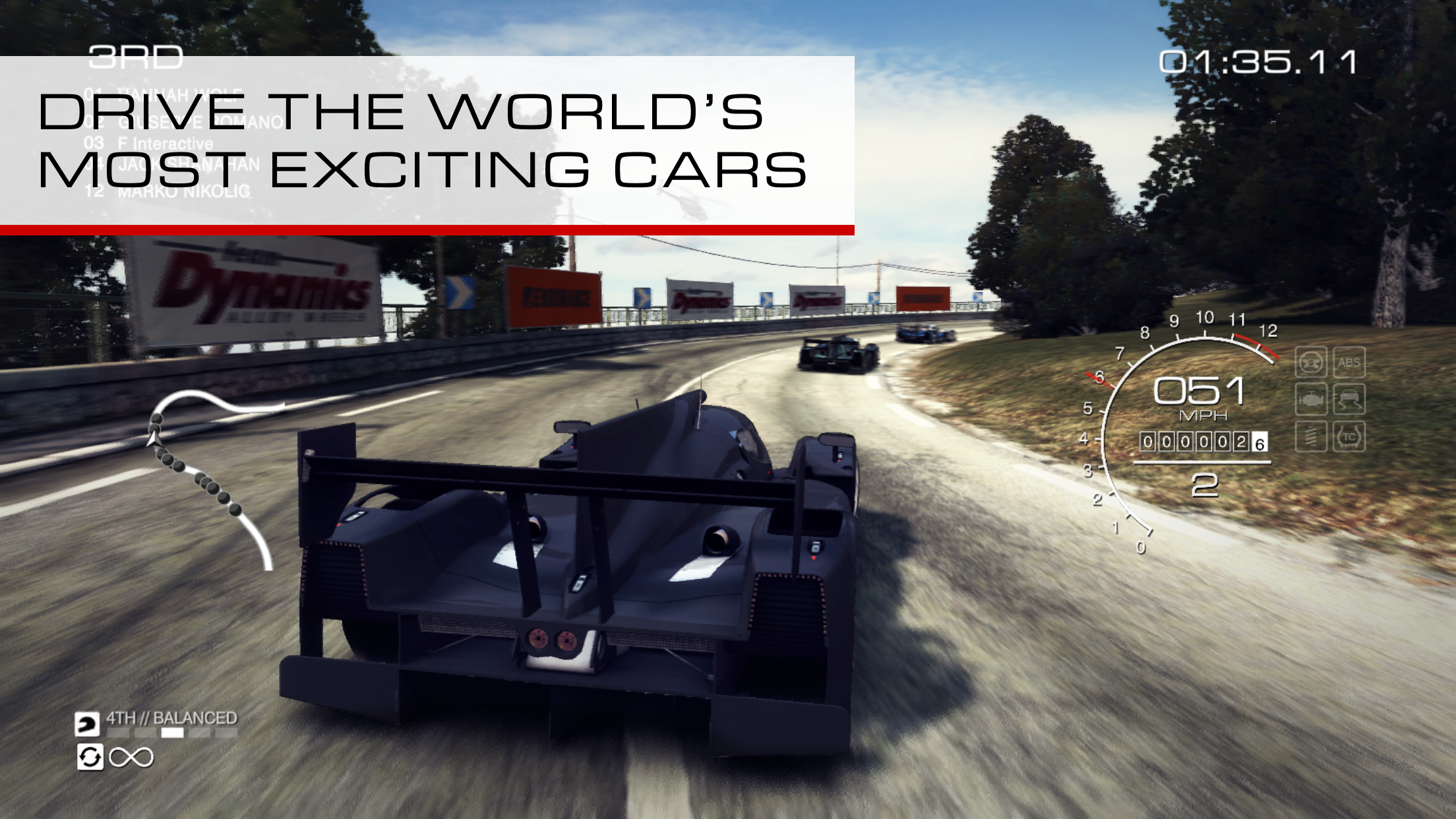 Setting a higher standard for mobile racing games, "GRID™ Autosport" aspires to deliver a mix of pure racing realism and high-speed thrills in a portable form. Developed by Feral Interactive, the same name behind several successful console games, GRID™ Autosport successfully reproduces a console-quality racing experience on Android and iOS devices.
One of the most compelling aspects of GRID™ Autosport is its graphics. The visuals of this game are breathtaking, rivaling and sometimes exceeding what we see on console games. From the highly detailed interiors of racing cars to the exceptionally rendered race tracks, every aspect of the game shows a remarkable level of detail. It serves as an excellent benchmark showcasing how far mobile gaming graphics have evolved.
In GRID™ Autosport, players can expect a blend of different racing styles. It provides an array of challenges by offering various disciplines. This includes Touring Cars, Street Races, Endurance, Open-Wheel, and Tuner Competitions. These different categories diversify the feel of racing, with each conveying a distinct set of challenges and therefore requiring a unique racing strategy.
The game also boasts a sizeable collection of high-performance vehicles. These aren't just aesthetic variations but have diverse performance attributes, thus changing how they handle on the track. Furthermore, players have the freedom to adjust vehicle performance characteristics to suit their racing style.
Another standout feature of the game is the AI opponents. Competitors aren't there just to make up numbers; they're designed to provide a challenge, mimicking the unpredictability associated with real-life racers.
Lastly, GRID™ Autosport offers a full-fledged career mode. It provides ample content to keep players engaged for a long time.
In essence, GRID™ Autosport serves as one of the best examples of the potential mobile racing games hold. Its comprehensive feature set, combined with console-quality graphics and responsive controls, sets a high benchmark for other games in the genre.
In GRID™ Autosport's detailed and variously challenging 100 circuits, a player can unleash a range of high-performance vehicles, making their way through numerous tracks, roads, laps, and loops. Each circuit's layout is an homage to some of the most iconic racing tracks worldwide, and the game goes the extra mile to ensure each race behaves as it would in real life – every twist, turn, and obstacle feels realistic.
Moreover, GRID™ Autosport puts a premium on player convenience, offering an array of control schemes to choose from – players have the ability to switch between intuitive customizable controls: tilt, wheel touch, arrow touch, or even gamepad support. This high degree of customization enhances the immersive racing experience and caters to drivers with varying levels of comfort and experience.
In terms of gameplay, GRID™ Autosport is packed with multiple racing disciplines like Touring Car Racing, Endurance Racing, Open-Wheel Racing, Tuner Competitions, and Street Racing. Each offering different challenges to keep players engaged, requiring them to adapt their driving skills to varying racing conditions and scenarios. This range ensures a well-rounded racing experience, pushing players to master different elements, much like a true racing champion.
The game's performance characteristics can be modified to suit players of different skill levels. Whether you're a beginner finding your feet or an experienced racer looking for a significant challenge, GRID™ Autosport offers scalable difficulty options, cementing itself as a game that appeals to both casual gamers and hardcore racing fans.
In conclusion, GRID™ Autosport consistently exceeds expectations by offering a hyperrealistic, adrenaline-pumping racing experience on mobile platforms. Its console-quality graphics, combined with the precision of its controls, and variety of gameplay options, make it a stand-out title in the racing genre landscape of 2023.
Click on your preferred platform below to download
CSR Racing 2
Unique in nature but equally engaging, "CSR Racing 2" redefines the classic notion of racing games by introducing a drag racing format that emphasizes the importance of precision and timing over maneuverability. The immersive nature of this game pulls you into a world of hyper-real drag racing, offering an experience that is both thrilling and intense.
Unlike traditional racing games, CSR Racing 2 does not feature steering, braking, or acceleration controls. Instead, winning a race solely depends on your ability to start off at the right moment and execute precise gear shifts. This shift from typical racing mechanics makes CSR Racing a pure testament to the skill of perfect timing, delivering a different but equally thrilling racing experience.
The game boasts a splendid collection of licensed vehicles from world-renowned brands such as Lamborghini, Bugatti, Ferrari, and so many more. Each model is crafted with painstaking detail, capturing the essence of their real-life counterparts beautifully. The advanced 3D rendering techniques ensure uber-realistic visuals that make the game more immersive.
CSR Racing 2 offers a range of game modes. Needless to say, the primary and most popular mode is the drag racing mode. However, CSR Racing 2 features a series of increasingly more difficult races known as 'Ladder' that forces you to keep upgrading your car. Besides, there's a PvP mode where you can take on players worldwide and show off your drag racing prowess.
The game further enhances the gameplay with an in-depth customization system. Players can tune their vehicles for maximum speed and dominate the competition in global crew events. It provides extensive options to modify your vehicle's interior, exterior, and even the license plate, allowing players to create and flaunt their dream ride.
CSR Racing 2 targets racing enthusiasts who want to intensively experience every split-second decision that goes into winning a race. Its unique gameplay, coupled with highly detailed vehicles and intensive customization options, offer a high-octane gaming experience unlike any other.
With its distinct focus on drag racing, CSR Racing 2 delivers an incredibly realistic driving simulator gameplay. The key to winning extends beyond merely having a fully upgraded car. The primary mechanic is all about hitting green on the rev counter when setting off and then getting perfect shifts during the race. So, your win depends largely on your reflexes, mastering the start, perfecting your shift timings, and knowing your car.
Furthermore, CSR Racing 2 stands out with its exquisite attention to detail. The game's makers have captured every aspect of the drag racing culture meticulously. For example, a realistic touch is how the exhaust flames roar from the back of the car after a perfect launch – an intricate detail that adds a significant depth to the gaming experience.
CSR Racing 2 also stands tall with its impressive AR mode, taking full advantage of the recent improvements in augmented reality technology. Players can bring their stunning, hyper-realistic cars into the real world and get a completely new perspective on their virtual rides. This unique feature adds a considerable value to the game, enhancing player-game interaction while combining real and virtual worlds in an exciting way.
The introduction of "Crews" in CSR Racing 2 introduces a social element to drag racing championships. It allows users to team up with friends and form a crew to participate in races together, foster camaraderie, and build a racing community. This social feature creates an immersive environment where players can not only strive to improve their game but can also build friendships along the way.
CSR Racing 2 effectively delivers a surround sound effect with high-quality audio, enhancing the overall gaming experience.
Click on your preferred platform below to download CSR Racing 2
F1 Mobile Racing
F1 Mobile Racing" offers a different vibe, focusing on the more technical aspects of racing. It delivers a phenomenal Formula 1 experience with real teams, drivers, and circuits from the FIA Formula 1 2023 World Championship. The game enables players to develop and customise their own F1 car from the ground up or race for one of the 10 official F1 teams. The authenticity of this game truly puts players in the driver's seat of F1 racing.
Click on your preferred platform below to download CSR Racing 2
Hill Climb Racing 2
For those looking for a less conventional racing experience, "Hill Climb Racing 2" comes into play. It's still a racing game at heart, but instead of high-speed tarmac action, it focuses on off-road, physics-based racing. With quirky graphics and a wealth of hilarious vehicles to choose from, it offers plenty of fun for both casual gamers and more serious racing fans.
Click on your preferred platform below to download Hill Climb Racing 2
Conclusion
Whether you're a casual player looking to kill some time or an ambitious adrenaline junkie with a knack for speed, the racing games of 2023 have offered something for everyone. Games like "Asphalt 9: Legends" and "Real Racing 3" have continued to dominate the traditional racing scene, bringing high-quality graphics and thrilling gameplay. In contrast, unique titles like "Mario Kart" and "Hill Climb Racing 2" have showcased that innovation and fun can coexist in the racing genre. As we plunge deeper into the gaming age, we can look forward to experiencing races on our Android and iOS devices that rival those on professional consoles in quality and immersion. Buckle up! The race is only getting started.