Double Kick Heroes has finally gotten a release date for Nintendo Switch and Xbox One. Still, there is no release date for PlayStation 4 currently, Double Kick Heroes has been out on Steam since 2018 via Early Access it already has 91 Reviews and an overall User Score of 9/10. Double Kick Heroes will be on Xbox One via Xbox Gamepass PC gamers can also access Double Kick Heroes via Xbox Gamepass on 28th August. It will release on PC and Nintendo Switch on 13th August.
Check out the trailer for Double Kick Heroes below:
Key Features
A full story mode which accompanied by 50 kerranging songs, including the OST Volume 2 Update, by top artists like Ultra Vomit, Volkorx, Gorod, Jinjer, Carpenter Brut and Gojira!
Double Kick Heroes is a Unique Rhythm shooter mashup with incredibly detailed pixel art.
There will be five difficulty settings to test even the most metal of metal head's skills in Double Kick Heroes.
Double Kick Heroes will also feature tons of accessibility options.
Double Kick Heroes will support USB drum and guitar on PC and Xbox One.
Nintendo Switch Joy-Con Alternative Motion Control Methods:

Air drumming – Joy-Con used as drumsticks, keeping in the rhythm of the game
Air beat – Can't drum? No Problem! Stomp to the beat with your Joy-Con
Want the all-out motion-controlled experience and really put that double kick pedal to the metal? Then it's time to use two sets of Joy-Con, one in your socks and one in your hands and drum and stomp your way through the apocalypse!
Double Kick Heroes will only be priced at 21.99$ on Nintendo Switch and Xbox One on Stream and Microsoft Store. It will also be 19.99$; as we mentioned before, it will be on Xbox Gamepass as soon as it releases.
Double Kick Heroes will also feature an Arcade Mode, according to the Steam Page.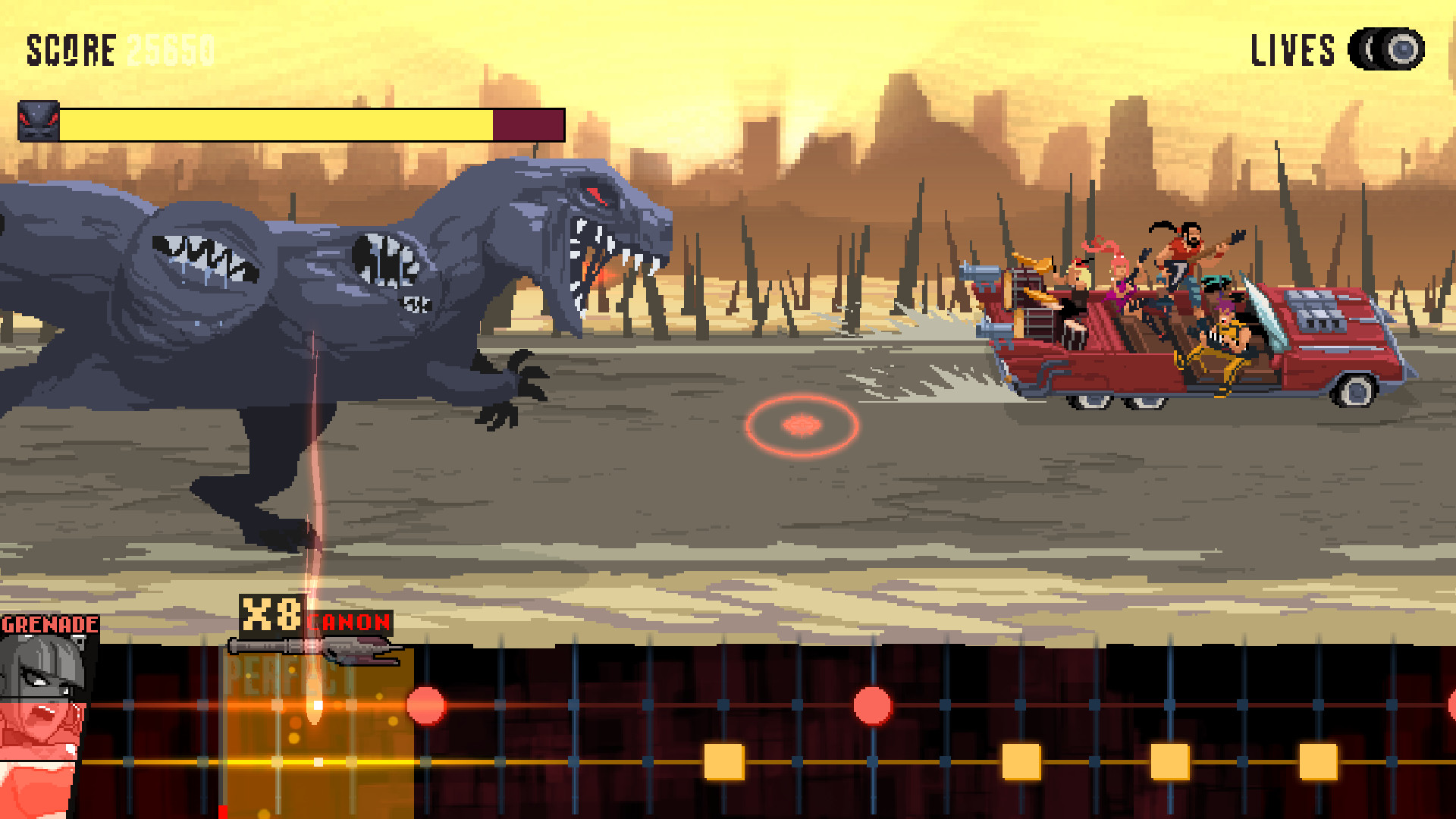 There are currently 6 Licensed Songs in Double Kick Heroes according to their steam pages. These songs are Kammtharr by Ultra Vomit, The Scarecrow Paradox by Fundamental Wisdom of Chaos, Cold by Hell in Town, This means war act 1 by Volkor X and Against the waves by Temnein. (These are available in Early Access the final edition may feature more tracks)
You will also be able to import any tracks you like to. Double Kick Heroes will also feature a Story Mode, which will consist of different types of levels.
What do you think about Double Kick Heroes? Please let us know in the comments below.