Update: The quote was apparently given on the philosophy of the game design Leth has now stated "We were talking about the proper way to release games – it had nothing to do with Team Cherry or Silksong"
Hollow Knight was revealed back in 2019, and we got some information about it at the end of the last year. You can expect more of Hollow Knight: Silksong this year because the PR manager of Team Cherry Games has stated on the official Hollow Knight Discord that they have finished everything and are in the final testing phase. However, you cannot expect a release date anytime soon since they are still fixing all the bugs, and they need time to market the game.
Here's a screenshot of what Leth said: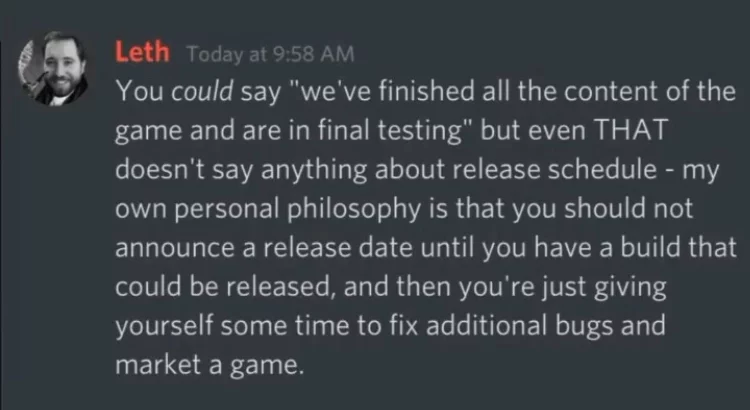 Hopefully, Hollow Knight Silksong releases this year. I have been hyped since I first played the original game. It is one of the best Metroidvania games I played in the last generation. I really hope that Hollow Knight Silksong is a worthy successor to the original one.
Hollow Knight Silksong has the potential to be even better than the original based on the footage. It looks amazing
They also revealed some more information about it previously. You can read all that information here.
Team cherry has said that Hollow Knight Silksong will be more accessible to appeal to many people. Hopefully, that is true because many people I know couldn't get into Hollow Knight because they didn't know much about the Metroidvania Genre. Since Metroidvania Genre is quite challenging, it is not easy to get into those types of games unless you have always been a fan of games like the Soulsborne series.
What do you think about this? Please let us know in the comments below.