CD Projekt Red received a Government Grant of 7.5 Million Dollars for Cyberpunk 2077. Their main mission was to develop the technology of a living city for Cyberpunk 2077. It seems like they have failed because A.I. in Cyberpunk doesn't feel natural at all. It feels very static, and the open world isn't "alive."
CD Projekt Red received 7.5 Million Dollars from the Polish Government for multiple things in Cyberpunk. Some of them were: City Creation, Cinematic Feel, Seamless Multiplayer, and Animation Excellence seems as they have failed at least currently because the full patch isn't out yet. the Open World in Cyberpunk 2077 is very outdated, animations feel unnatural, and there's not much of a "Cinematic Feel" in Cyberpunk 2077. We will still have to wait to see if Cyberpunk Multiplayer is any good.
You can read more of our criticism about Cyberpunk 2077 here.
The image above states the amount of money CDPR was granted for Cyberpunk 2077, and we have already mentioned how CDPR has failed and wasted the money. Hopefully, somehow Cyberpunk 2077 gets fixed with all the upcoming patches.
CDPR is underfire currently; people are criticizing them everywhere. They recently posted this on Cyberpunk 2077. It's related to the patches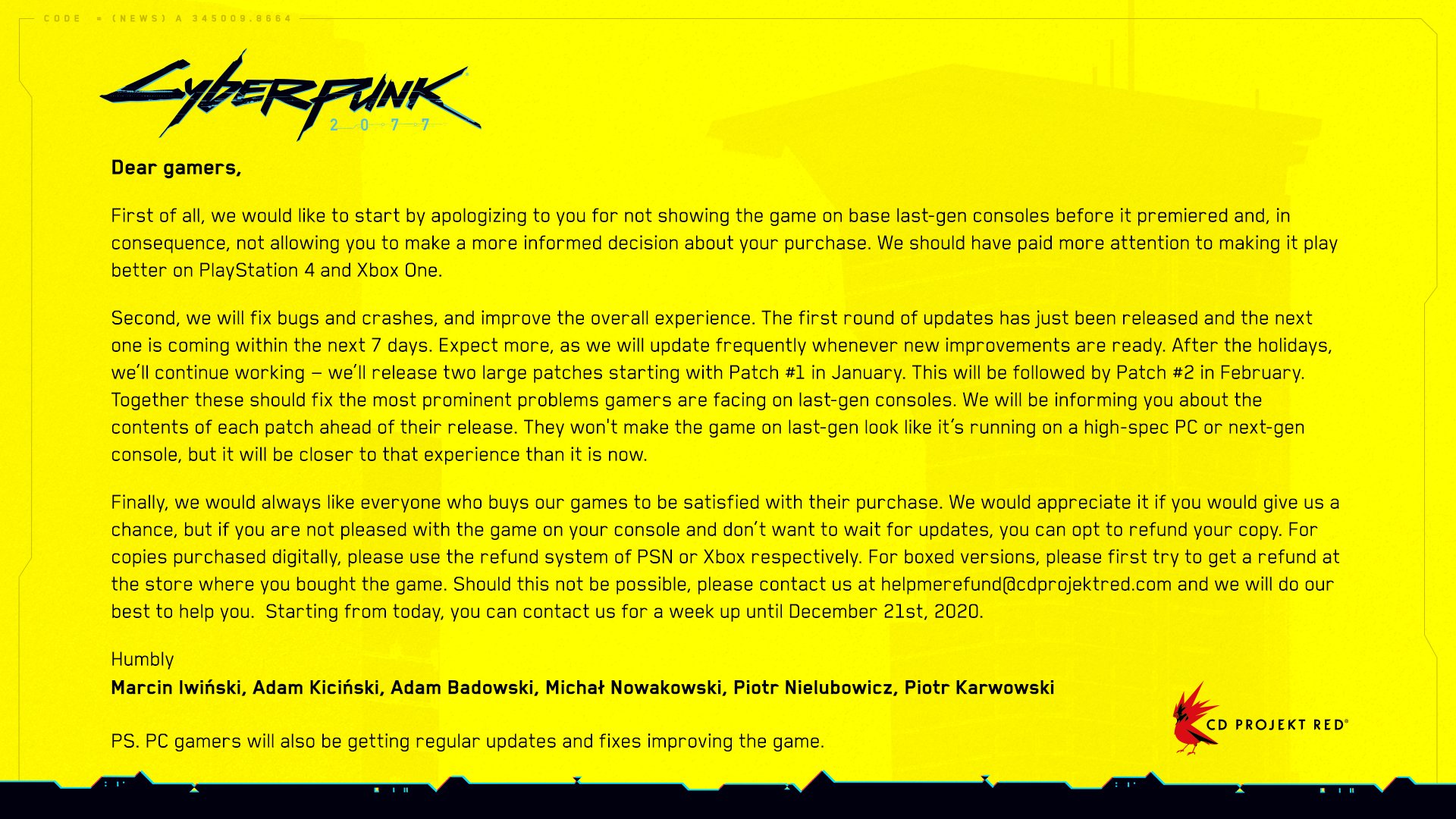 So basically, you'll have to wait until February. Many people are already refunding the game. Also, as you can see in the image above, CDPR states that there would be no graphical updates, which mean that the textures will still look weird CDPR are just trying to get the game in a playable position on the last-gen console,s I hope they succeed at it, so the money they were granted doesn't go to waste.
What do you think? Please let us know in the comments below.